Frequently asked Questions
Payment Waiver FAQ
What is Payment Waiver?
Payment Waiver is a term of the Neo Energy Domestic Contract whereby we agree to waive our customer's regular Direct Debit payment if a prescribed event occurs.
What events are covered?
Being made redundant or being signed off work by your Doctor are the main causes for people to fall into arrears with their energy bill. At Neo Energy we offer you peace of mind and security that should one of those events occur to you, that your energy bill will be waived.
How long does the Payment Waiver last?
We will waive up to 6 monthly Direct Debit payments for any one waiver event, and should you suffer from the event for 6 consecutive months, we will write-off any remaining balance on your Neo Energy account.
Do I have to repay any payment that has been waived?
No. Payment Waiver is our promise to you to waive a payment if you suffer from a prescribed event. You do not have to repay us if we have agreed to waive a payment.
Is my credit rating affected if I have a Payment Waiver?
No. With Payment Waiver we are agreeing to waive a Direct Debit payment. You have not failed to meet a payment that is due.
Can I Opt-In or Opt-Out of Payment Waiver whenever I like?
You can Opt-Out of the Payment Waiver at any time by giving 30 days' notice. If you Opt-Out of the Payment Waiver, or do not choose the Payment Waiver when first offered, you will not be able to Opt-In to Payment Waiver unless we offer it to you. If we do allow you to Opt-In other than when you first start a contract with us, you will not be able to request a Payment Waiver for redundancy for 6 months from the date that you Opt-In, but will be able to request any other waiver events once the waiting period has lapsed.
How much does Payment Waiver cost?
Payment Waiver costs £0.098 (9.8 pence) per day and will be added to your Standing Charge.
Is Payment Waiver insurance?
No. Payment Waiver is a contractual promise from us to you to forego collecting monies that would otherwise fall due if a prescribed event occurs.
Frequently Asked Questions
How can I change to a different energy tariff?
Please give us a call and we'll ensure that you are getting the best value for your money.
Why has my energy consumption changed?
If you have not submitted a meter reading before your bill was generated and it does not reflect your actual read, this will result in us generating a bill based on an 'estimated read' generated by our system's record of previous meter reads. Please contact us so that we can ensure that you are billed for what you have used. Lastly, if you find that you may have a change in lifestyle or in your circumstances, this could affect your consumption also.
What is the "cooling off period"?
This period is for a duration of 14 days from when you contacted the new supplier and registered as a new customer. The cooling off period is an industry standard and operates as a buffer allowing time for customers to change their mind if they chose to stay with their current supplier. During this period, your new supplier will connect to the 'Industry' and request the supply switch on your behalf. This will allow you with peace of mind to switch suppliers without any hassle. All you will really need to do is ensure that you are completely satisfied with the switch and ensure that you have carefully read the details noted in our Welcome Pack. The end date of your "Cooling Off Period" is noted on page 2 of your Welcome Pack.
What is the Warm Home Discount Scheme?
This is a scheme backed by the UK government to assist in paying for your energy bills. A total credit of £140 could be applied to your energy charges during the period of October to April to offset your electricity bill, if you are eligible. Neo Energy does not participate in this scheme as it is only available to suppliers with over 250,000 domestic customers.
How do I read my meter?
There are two types of meter display: Dial and Digital.
Dial Meters
Example of a Dial Meter Display
How to read a dial meter:
The dials on this meter are read from left to right, ignoring the red dial at the far right.
The first dial is read clockwise, second dial is read anti-clockwise, repeating this pattern up to the fifth dial. Therefore, every other dial starting from the left side of the meter is read clockwise and the rest are anti-clockwise.
Depending on the direction that the dial is being read (Clockwise vs. Anti-clockwise) the pointer may fall between two numbers. For example: on the first dial in figure 1, you see the pointer fall between the 8 and 9, the reading will begin with the number 8 to indicate that the meter is at the 80 thousand kilowatts and counting upwards. A rule of thumb is to read the number that the pointer has passed from the direction that you are reading the dial.
Best practice if in doubt is to take a photograph and we'll assist you with submitting your reading to ensure bill accuracy.


Digital Meters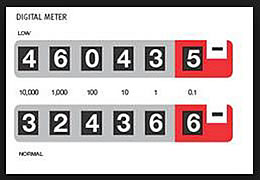 Example of a Digital Meter Display (Economy 7 and Single Rate Display)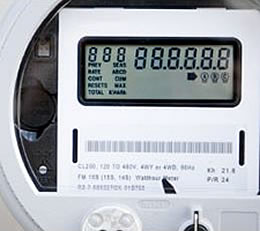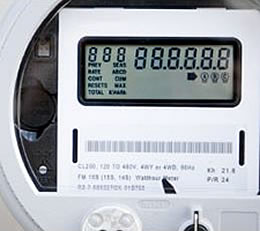 How to read a Digital Meter:
For most digital meters, like the dial, there are five positions for an electric meter to show a reading. The picture above shows the same as the dial but easier as the numbers are presented to you and you will have to ignore the numbers appearing in the red section as they are not whole numbers to be accounted for.
The example above shows two rows of numbers as this is an Economy 7 meter. An economy 7 meter allows for lower pricing for a period of 7 hours in your area. There will be two meter reads to provide for an economy 7 meter will be respective of terms such as:
Peak Off-Peak
Day Night
Normal Low
Rate 2 (R2) Rate 1
(R1)
Rate II Rate I
When submitting a meter reading, you should submit all numbers including zeros, however remember that the number in the red field or in red is not required. Best practice if in doubt is to take a photograph and we'll assist you with submitting your reading to ensure bill accuracy.
What is a Kilowatt?
Also identified as kWh means kilowatt hour used to measure energy usage. 1 kWh will power a 40 watt light bulb for 25 hours.
What is a Cubic Meter?
Also identified as m3 means cubic meters to measure gas usage and converted to kilowatt hours for billing purposes.
How would meter readings be applied to my bill?
On your bill, you will see a meter reading for the beginning and end of the period (quarterly bills typically the first of the month) and will have (a) meter read(s) to identify the given billing period.
In the instance that we not receive a read when the bill is generated, we as your supplier are obliged to submit a reading to the industry for this period, resulting in an 'estimated reading' noted on your bill. (An estimated reading is calculated based on the meter activity and system-generated. The more often you submit a meter reading will determine if the estimate is roughly what your actual reading will be.) The calculation of your bill will include:
Meter readings for the given billing period (actual or estimate).
Standing Charges applied at a per diem rate for the given billing period for each fuel.
Unit Rates will be applied to calculate the cost of consumption for the total kWh consumed in that billing period for each fuel.
VAT of 5% will be applied additionally to the sub-total of these charges.
Any discounts or extra charges will be itemized on your bill.
How do I pay for my bill?
Who do I contact if I have no power?
During power loss, you would typically contact your Local Electricity Network Operator
Contact Details?
In the UK, there are 14 Network Operators all with a specific area of coverage. Just call Power cut 105 by dialling 105 on your phone or go to:
powercut105.com to determine the Operator in your area.
MPAN
Meter Point Administration Number or Supply Number or S-Number. In the UK there are 21 digits to reference electricity supply points based on this number and is unique to the property. This number is printed on your bill and may be referred to as your Supply Number.
MPRN
Meter Point Reference Number is the unique 11 digit number assigned to your gas meter in the UK associated to the property. This number is printed on your bill and referred to as your Meter Pont Reference.
Paying your bill
Standard Direct Debit
This means you will pay for your energy supply in advance every month by Direct Debit. Neo Energy will advise you what the set amount will be each month.
Variable Direct Debit
This means that you pay for your energy supply every three months, upon receipt of each quarterly bill. The amount you pay will be based on the usage detailed within your bill.
BACS Transfer
You can also make a payment to Neo Energy directly from your bank to ours using the details below:
Name: Neo Energy
Sort Code: 20-90-74
Account Number: 33721612

Please use your Account Number as a reference!